Independence Day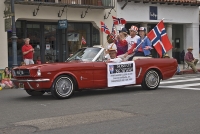 Independence Day Parade © Damian Gadal
Norway achieved independence from the Danes, creating their constitution on this day back in 1814 and progressing to become one of the most successful countries of the twentieth century. Independence Day is the biggest day of the year in Norway and the whole country celebrates with parades, music, performances, and parties throughout the long spring nights.
The Norwegian Independence Day is notably non-military in flavour, compared to independence celebrations in many other countries. The main events are children's parades, held in villages and cities all over the country.
The largest parade is in Oslo, where some 100,000 people gather in the city centre to participate in the main festivities, marching past the royal palace where the royals wave from the main balcony to a sea of Norwegian flags and banners.
People wear red, white, and blue ribbons and clothes, but it is also common to wear traditional outfits of various kinds. The Norwegians are proud and celebrate the day with gusto and much jollity, making it a wonderful cultural experience for foreigners travelling in the country.
Venue: Throughout the country
Date: 17 May annually