Grahamstown National Arts Festival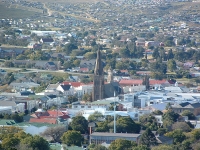 Grahamstown, South Africa © Tim Giddings
The Grahamstown National Arts Festival is one of the most important cultural events on the South African calendar. It's also Africa's biggest annual celebration of the arts, attracting more than 50,000 people. Many art forms are represented in over 500 shows, from street theatre, exhibitions, dance and comedy to opera, drama, and ballet. Attendees can spend time in lectures and workshops too, meaning there's something to delight everybody.
The vibrant little university town comes alive with parties, live music and big social events. Restaurants, bars, pubs and clubs do a booming trade. The sprawling craft markets are another big attraction. Visitors will find an official festival market on the Great Field of Rhodes University, and numerous unofficial markets throughout the town's streets and thoroughfares.
Visitors are advised to book accommodation for the festival as early as possible, as Grahamstown is small and good accommodation tends to fill up fast. The destination is indeed an interesting stop at any time of year, though the National Arts Festival showcases it in the best possible light.
Venue: Various throughout Grahamstown
Date: 25 June - 5 July 2020
Website: www.nationalartsfestival.co.za