Buenos Aires Book Fair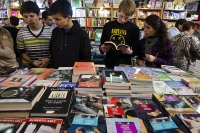 Buenos Aires Book Fair © Ministerio de Cultura de la Nación Argentina
The Buenos Aires Book Fair, established in 1975, is an eagerly awaited annual event in the Argentine capital, rated as one of the top five book fairs in the world and aimed at both publishers and the general public. The fair encompasses 1,500 stalls from more than 50 countries, drawing as many as 1,200,000 visitors over the course of three weeks.
The fair is hosted at the La Rural exhibition complex and features a variety of special lectures each year, all given by leading professors and lecturers. In the past, the lectures have covered the history of jazz, workshops on scriptwriting, and the history of Argentine art. Some famous writers who have attended and spoken at the fair in the past include Paul Aster, Italo Calvino, Wilbur Smith, Isabel Allende, Mario Vargas Llosa, and Roger Chartier.
The fair also features book sales, workshops, and activities for children and adolescents, educational activities like discussion forums and roundtables, presentations and signings, and book readings to delight bookworms of all ages.
Venue: La Rural
Date: 21 Apr - 11 May 2020