Birth of Rome Celebrations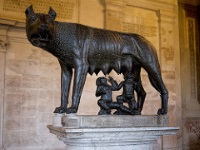 Romulus and Remus © david__jones
Every year, the birth of Rome is celebrated on 21 April, with numerous events taking place at notable venues around the city, including the Roman Forum and Campidoglio. If you're lucky enough to be in Rome over this period, you will have access to all sorts of activities and performances.
Many of the Roman buildings in the city are illuminated at night, and they come alive with reenactments of scenes from Roman history, concerts, fireworks, parades, gladiator shows (historical accuracy is thankfully compromised so that nobody dies) and traditional banquets.
Another huge bonus for tourists is that all of the museums and parks in Rome are open to the public on this day every year so that people can celebrate the great city's cultural heritage. Of course, the lack of admission charges does mean that attractions get very crowded and accommodation can be difficult to find on short notice, so it is best to book your trip well in advance. Partaking in Rome's birthday celebrations is fun and festive and the Italians tend to be extremely proud of their heritage and eager to share it.
Venue: Various
Date: 21 April 2020