The Berlin Jazz Festival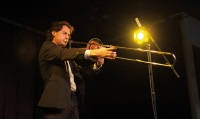 JazzFest Berlin © Ulla C. Binder
The Berlin Jazz Festival is one of the world's premier jazz festivals and a highlight on the Berlin musical calendar, with a range of concerts taking place all over town and in a variety of different settings, from casual jazz clubs to big professional arenas.
Founded in 1964, it is consistent in its popularity and standard of its programme. Some of the most famous names in the business are attracted to this annual event, with big American names like Herbie Hancock and Lee Konitz making an appearance.
World music bands also feature on the programme, bringing a lot of originality and range to the festival. Berlin is always a great city to visit if you are a lover of jazz music, but Jazzfest truly showcases the city's jazz scene.
Venue: Various
Date: 5 - 9 November 2020
Website: www.berlinerfestspiele.de