Irish Music and Dance Show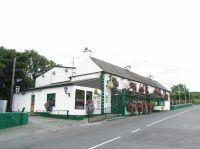 The Merry Ploughboy Pub © JP
This show and banquet is a highly entertaining performance of live traditional Irish music, ballads, and Irish dancing. Taking place at the Merry Ploughboy, guests enjoy wonderful food, pints of Guinness, and Dublin's very own Merry Ploughboys.
This band has been performing to rave reviews in Dublin for over 20 years, and this live concert is widely regarded as the best traditional music show in Dublin. A spectacular dance routine usually interrupts the ballad sessions, incorporating the best of contemporary and traditional Irish dancing.
Once the dancing comes to an end, the band begins to let loose and a night of authentically Irish entertainment commences. Both musicians and dancers involve the entire audience in their high energy performance.
It is a wonderful introduction to the famous Irish nightlife and makes for a merry evening out. The show is popular with locals and tourists alike, which attests to its authenticity. For those needing transport, the pub offers a shuttle service from six centrally located stops in Dublin.
Venue: The Merry Ploughboy Pub, Dublin City Centre
Date: Nightly throughout the year.
Website: www.MPBpub.com