Meet in Beijing Arts Festival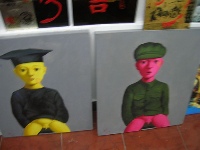 Since 2002 the 'Meet in Beijing' Arts Festival has been held annually in and around Beijing city, starting in April/May. 'Meet in Beijing' is a month long arts festival with a programme of theatre, music, dance and art exhibitions which includes artists from all over the world. In 2011 performers came from Cuba, Scotland, Latvia, Poland, Japan and many other countries travelled the Chinese capital to display their talents along with famous Chinese performers. 2012 saw more than 60 art troupes from around the world performing in Beijing. It is touted to be the largest spring cultural event in Asia and, because the festival aims to promote support for the arts, tickets are reasonably inexpensive. Shows are performed in both indoor and outdoor venues including famous scenic spots and buildings like the National Theatre and the Forbidden City. There are also numerous public activities and events to enjoy and arts and crafts markets spring up all over Beijing. The programme is extensive and varied and should provide for all tastes. 'Meet in Beijing' creates a festive and artsy atmosphere making April and May good months to visit Beijing.
Venue: Various venues around Beijing
Date: 28 April to 29 May 2013.