Galle Literary Festival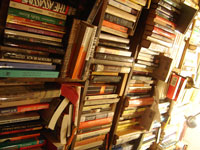 Books © Paull Young
The Galle Literary Festival allows visitors the opportunity to appreciate the works of Sri Lankan and international authors, take part in literary discussions and enjoy other writerly and readerly activities in the beautiful and artistic Galle. Set in and around the UNESCO World Heritage Site of the Dutch Fort of Galle, writers from around the country and the world come together for an international celebration of writing, photography, music, ecology, architecture and food!
During the day the Galle Literary Festival features writing workshops, panel discussions, topical debates, poetry readings, cooking classes, theatre workshops and literary lunches, while during the night there are poetry slams, jazz performances, late night movies, art showings and photographic exhibitions. There is even a comprehensive children's programme that focuses on art and eco workshops, creative writing and debating. The event has hosted some famous authors, like Joanna Trollope, Richard Dawkins and Michael Morpurgo.
An intimate and supremely friendly celebration, the Galle Literary Festival is popular and receives rave reviews from both invited authors and festival-goers.
Venue: Galle
Date: TBC 2020
Website: www.galleliteraryfestival.com