National Festival of Kites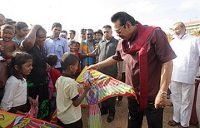 Kite Festival © Mahinda Rajapaksa
The National Festival of Kites is a wonderful annual event held to inspire the creativity of the Sri Lankan people, children and adults alike. The kite festival is part of the celebration of World Children's Day in Sri Lanka and it is a joyful, fun event which is intended to bring families together in creative endeavours. Attending the celebration is a must for those travelling with kids in Sri Lanka at this time of year.
Hordes of people gather to marvel at a sky filled with kites, which include fancy, state-of-the-art contraptions, and homemade delights of all shapes and sizes made from an assortment of colourful saris, dried leaves and other interesting finds. Prizes are given out for the longest kite, the most innovative kite, the best fighting kite, the best kite made of natural materials and much more. A previous winner in the natural materials category was a massive owl kite made from feathers and palm leaves. There are also kite workshops to help people make their own flying contraption.
There are separate categories for children and adults. The event has previously been held at Mount Lavinia Beach, but the venue is liable to change year to year. Remember to bring your camera as the visuals are incredible!
Venue: Mount Lavinia Beach, Colombo
Date: 28 August 2015