Portland Saturday Market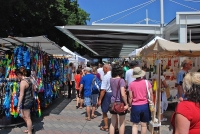 Saturday Market, Portland © Steve Morgan
The Portland Saturday Market is one of America's largest open-air craft markets. There are more than 250 stalls selling handcrafted items and delicious homemade and ethnic food. There is an intimate, down-to-earth spirit here as visitors interact with the artists and watch them work.
Situated in Portland's historic Old Town, the market features live music and other events to add a festive atmosphere to the shopping scene. Portland is proud of its famous market, which is a community institution and well-loved by both locals and visitors.
For information on what's available at the market, check out the official website listed below.
Venue: Old Town at SW Ankeny Street and Naito Parkway
Date: Weekends March to December Anually
Website: www.portlandsaturdaymarket.com