St Patrick's Day Festival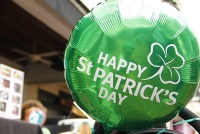 St Patrick's Day © Hongreddotbrewhouse
Nowhere else in the world is St Patrick's Day observed with more fun and celebration than in Dublin, which is just as it should be! The St Patrick's Day Festival has become a five-day party filled with craic - or good times - with a varied programme of events, including lots of traditional and contemporary Irish music.
Each day of the festival offers a number of events. There are themed poetry readings, craft-beer competitions, and walking tours of the city, as well as lots of live music and performance art. The Big Day Out carnival includes street performers, clowns, games, a funfair and lots of singing and dancing, and promises an enchanting performance involving giant inflatable characters. Other highlights include the team Treasure Hunt, the spectacular Skyfest fireworks event, and a huge celebration of traditional Irish dance (Céilí Mór) where everyone can participate in a range of foot-tapping dances. The grand finale of the festival is the spectacular street parade that is a themed procession of colourful floats, marching bands and fantastic performers.
There is no better time or place in the world to don your greenery and celebrate Irish culture!
Venue: City Centre
Date: 14 — 17 March 2023
Website: www.stpatricksday.ie