Jerash
Excursions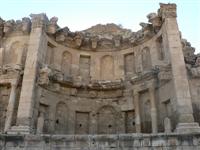 Situated about 31 miles (50km) north of Amman is one of the top attractions in Jordan: the ancient city of Jerash, considered to be one of the best-preserved Roman sites in the world. Its exceptional state of preservation is due to the fact that it was buried in sand for centuries and the magnificent baths, theatres, temples, arches, columns and stone chariot-rutted streets have long attracted scholars and tourists from across the world to admire the most complete city in the Roman Decapolis. Excavations dating to the Neolithic Age have indicated that Jerash was continuously occupied for more than 6,500 years. Today visitors can marvel as the ancient amphitheatre comes to life at the annual Jerash festival of Culture and Arts, where artists from around the globe sing, dance, act and play music on stage in a celebration of Jordanian and international culture.
Telephone: (0)2 635 1014 (Visitor's Centre)
Opening times: Daily 7am until dark. From July to October a sound and light show takes place every evening.