Salvador Dali Museum House
Excursions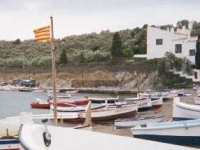 The busy fishing village of Cadaques draws plenty of visitors, but they do not come for the local beach, which is rather narrow and stony. Rather the resort town's attractions are its picturesque natural harbour, some excellent restaurants, numerous galleries, fashion and art and craft shops, and the former home-turned-museum of world-renowned surrealist painter, Salvador Dali (sited in Portlligat Bay just to the north of the town). Dali's somewhat bizarre home consists of a labyrinthine cluster of fishermen's huts, added to the original building in various stages by the artist over a period of 40 years. Visitors are conducted through the house and garden in small groups, having pre-booked.
Address: Portlligat, Cadeques
E-mail: pllgrups@dali-estate.org
Website: www.dali-estate.org
Telephone: Information and bookings: 972 251 015
Transport: Train to Llanca or Figueres station. It is possible to walk to Portlligat from Llanca station, or to take the bus from Figueres
Opening times: Open daily from 10.30am, except on Mondays and bank holidays (13 March to 6 January). Between 15 June and 15 September, there is no Monday closure and the museum stays open till 9pm. Visitors must pre-book by telephone, fax or email, and are admitted in groups every ten minutes during the day.
Admission: €8, children under 9 free