Stavrovouni Monastery
Excursions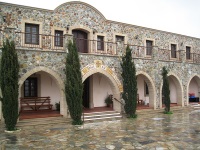 Perched on top of a solitary mountain, 25 miles (40km) from Larnaca and six miles (10km) off the Lefkosia-Lemesos Road, is the oldest monastery in Cyprus, founded in the 4th century by Saint Helena, mother of Constantine the Great. This Greek Orthodox monastery contains an important relic, a fragment of the Holy Cross. Other relics left at the monastery by Helena include the Cross of the Good Thief, a nail and, according to some sayings, a part of the rope that Jesus was tied to on the Cross. The primary relic, the fragment of the Holy Cross is now encased in a silver cross and cannot be viewed directly.
The mountain on which the monastery is dramatically perched, with a winding, steep road, used to be called Olympus but is now known as Stavrovouni. The monastery is considered the spiritual centre of Cyprus and now houses quite a number of monks. Recently, the monastery underwent a complete renovation; its small church was fully restored with new frescoes and icons painted by the famous artist, Fr. Kallinikos, a monk from Stavrovouni. The pictures record the legend of the foundation: St. Helena, in a brilliant red garment, finds the True Cross in Jerusalem. Unfortunately, the monastery is only accessible to men; women are not allowed to enter.
Telephone: 24 533 630
Opening times: Daily 8am-12pm and 2pm-5pm (September to March); 8am-12pm and 3pm-6pm (April to August). Men only.