Lefkara
Excursions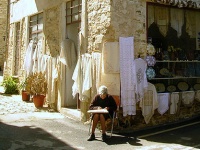 This beautiful village in the Troodos hills in the west of Larnaca District is famous for its handmade lace, known as lefkaritika. The village of Lefkara, which actually consists of an upper and lower town section, is off the main Nicosia/Limassol highway and features cobbled streets and picturesque architecture. Groups of women sit in the narrow village streets working on their fine embroidery, as they have for centuries.
The village is also known for its skilled silver smiths who produce fine filigree work, and there is a small Turkish Delight factory. A folklore museum in the town shows visitors what life was like on Cyprus a hundred years ago (in fact, the whole village feels like a folk museum). The museum is situated in a restored house and exhibits the furniture and effects of a wealthy family of the time, local costumes and examples of the Lefkara lacework.
Lefkara is a lovely little town which delights visitors and allows them to explore what seems like an authentic Cypriot village. The people are very friendly and welcoming and it is a good place to meet some locals. Lefkara is also a good base from which to explore a number of other little villages.
Address: Located at the foot of the Troodos Mountains, 12 kms from the Nicosia
Website: www.lefkaravillage.com/