Splash & Fun Park
Excursions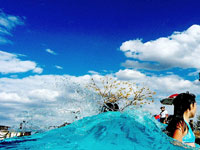 The Splash & Fun Park is a great place to take the kids on a hot summer's day where they can swim and ride the water slides to their heart's content. There is a great variety of slides and something to suit all age groups and all thrill levels. There are sun bathing areas, a wonderful Lazy River and one of the largest wave pools in Europe to enjoy while the kids get rid of their energy on rides such as the Black Hole, Super Bowl, Side Winder, Hippo Slide and Children's Splash Land. The park is modern, well-maintained and clean, and considering how hot Malta can get splashing around is one of the most sensible ways to spend a day. There are lockers where visitors can lock up valuables, and several food and snack outlets for refreshments. In peak season the park can get very crowded and it is a good idea to get there early to avoid queues. Having said that, admission costs are reduced after 1pm, and an afternoon should be sufficient to enjoy all the watery fun the park has to offer, so many people like to take advantage of this discount. Out of peak season Splash & Fun may have a reduced menu and some rides may be closed, but it is less crowded and often more pleasant as a result.
Address: Coast Road, Bahar ic-Cahaq
E-mail: info@splashandfun.com.mt
Website: www.splashandfun.com.mt
Telephone: 2137 5021
Opening times: 4 April to 28 June and 14 September to 1 November 9:30am-5:30pm; 29 June to 13 September 9am-9pm.
Admission: Full day pass: €18 (adults); €10 (children). Half day pass: €10 (adults); €6 (children)