National Park of American Samoa
Excursions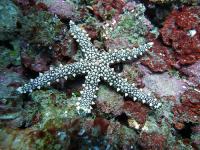 Distributed across three of American Samoa's islands, the National Park of American Samoa comprises magnificent coral reefs that provide breathtaking snorkelling and scuba diving opportunities, as well as verdant green rain forest popular with hikers keen on visiting the islands' volcanoes. The island of Ofu features the best waters for snorkelling and diving. The park serves to preserve Samoa's unique natural resources and is a popular attraction for tourists visiting American Samoa. A new park visitor centre is located in Pago Plaza office building located on the island of Tutuila and there is hotel-style lodging on all three of the islands.
Website: www.nps.gov/npsa/index.htm
Telephone: (684) 633 7082
Opening times: Visitor Centre: Monday to Friday from 8am to 4:30pm.
Admission: Free