Puerto Princesa Subterranean River National Park
Excursions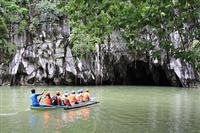 The Puerto Princesa Subterranean River National Park is located in the Filipino province of Palawan, about 30 miles (50km) north of the city of Puerto Princesa. Although it is a little 'off the beaten track', tourists to the Philippines are strongly encouraged to make the trip to see the underground river, which by all accounts has emerged as one of the very best things to see in the Philippines in recent years.
In fact, the spectacular Puerto Princesa Subterranean River has not only been inscribed in UNESCO's list of World Heritage Sites, but - in November 2011 - was also named as one of the New Seven Wonders of the World. The well-maintained National Park contains an area with a limestone karst mountain landscape, and the famed river follows a five mile (8km) course through a large cave complex before merging with the South China Sea.
Visitors can take boat rides along the underground river, and marvel at the huge stalagmites and stalactites, the interesting limestone rock formations, and the echo-filled chambers they pass by. The world's longest underground river - coursing through an area of appreciable biodiversity - nature-lovers and adventure-seekers alike will be delighted by a visit to the Puerto Princesa Subterranean River National Park.
Website: www.puerto-undergroundriver.com