Chiemsee
Excursions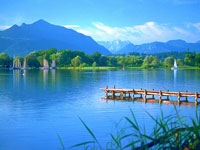 One of the most beautiful lakes in the Bavarian Alps, Chiemsee boasts two islands and is lined with resorts. A popular weekend excursion in Germany, it can be reached by train from Munich in an hour, or by road via the A8 Autobahn. Visitors can take a steamer cruise around the lake from Prien on the west shore to explore the islands in the lake. The scenery is breathtakingly lovely and in summer there is great swimming and sailing to enjoy, although even in winter, when it is much less popular, the lake is beautiful.
Frauenchiemsee is the smaller island and the site of a quaint fishing village with some colourful traditional customs, and a Benedictine nunnery known for its liqueur. The larger island, Herrenchiemsee, bears one of King Ludwig's famous fairytale castles. This one was never completed, but was intended to be a replica of the palace of Versailles. The centre of the palace still stands, complete with a splendid hall of mirrors and surrounded by gardens and woodland. It is an extremely popular tourist attraction with its gaudy splendour and picturesque location.
Website: www.chiemsee.de
Opening times: The 'Neues Schloss' is open daily 9am to 5pm (April to September), and 10am to 4pm (off-season).