Horton Plains National Park and World's End
Excursions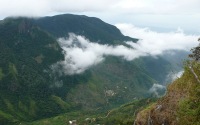 Located in the central highlands of Sri Lanka, Horton Plains National Park is a protected area that contains some of Sri Lanka's highest mountains, covered in thick forest, misty lakes, and hidden waterfalls. Horton Plains National Park is one of the only parks in Sri Lanka that allows guests to hike on their own on designated trails. The park is home to many animals, including Samabr Deer as well as wild boars, otters, leopards, macaques, loris and many species of bird.
The most popular tourist attraction in Horton Plains National Park is World's End, a sheer precipice with a 2,850-foot (870m) drop at the southern boundary of the park. From the top of the cliff, visitors have a spectacular view of the surrounding hills which extends as far as the Indian Ocean, dozens of miles away, on clear days.
The hike to World's End is 6.2 miles (10km) and takes roughly three hours. Visitors should note that from 9 to 10am there is a thick blanket of mist over the valleys that totally obscured the view from the cliff, and the best time to see World's End is early in the morning. The path can be crowded on weekends, when large groups of tourists tend to scare away any wildlife in the area.