Mar del Plata
Excursions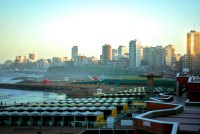 Two hundred and thirty miles (400km) south of Buenos Aires, Mar del Plata is by far Argentina's most popular beach resort. Around three million local tourists holiday here every summer, drawn to its busy beaches and lively entertainment.
Visitors can alternate between spending idle days people-watching on the beach or enjoying a spot of culture at one of the city's small galleries. Families will enjoy the city's museums, zoo and aquarium. There is also the bustling port to visit, featuring numerous and colourful traditional fishing boats and a noisy colony of sea lions.
For a taste of the good life, the Mar del Plata has some excellent bars and restaurants and, at the height of summer, non-stop nightlife. Some visitors prefer to travel outside the peak Christmas season when there are shorter queues for restaurants and the like. Even in winter the city doesn't close down, as there are more than 700,000 permanent residents.