Mondorf-les-Bains
Excursions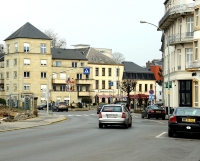 In the Moselle region in the southeast of Luxembourg, nestling in the hills, lies the spa town of Mondorf-les-Bains, where thousands of visitors come on holiday every year to enjoy the verdant surroundings and thermal springs of what is billed as one of the most modern balneotherapy centres in Europe. The town is actually very old, established by the Celts and conquered by the Romans in about 65 BC; the settlement has frequently been attacked and destroyed in its long history, but has endured.
The Mondorf-les-Bains holiday resort consists of a thermal park set in 50 hectares of parkland, offering a variety of sports facilities and a balneotherapy pavilion with saunas, swimming pools, waterfalls, whirlpools and geysers. The hot springs are said to be particularly good for the treatment of liver, gastric and respiratory ailments. Visitors can also be pampered with massages and mud baths among other things.
There is a casino in the town and historical and architectural attractions include some interesting frescoed churches, a Roman fortress and some Art Nouveau-style houses to visit while on holiday. The spa town has plenty of luxury accommodation and some great restaurants. Those visitors who feel the need to shop while on holiday won't be disappointed.