Christchurch Gondola
Excursions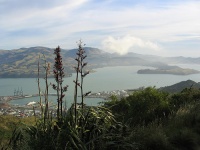 The spectacular ride takes visitors to the top of the crater rim of Christchurch's extinct volcano on the outskirts of the city, unfolding magnificent views of the city, over the Canterbury Plains and towards the Southern Alps, and the sweep of Pegasus Bay and Lyttelton Harbour, as it rises to 1,460ft (445m) above sea level. At the summit the Gondola Complex features the Time Tunnel Heritage Show with a walk-through exhibition and video relaying the history and geological evolution of the Canterbury region as well as Maori mythology. From the summit it is possible to walk back down through the Port Hills to Sumner Beach. The Gondola was damaged in the 2011 earthquake and is currently closed for repairs.
Address: Gondola Base Station, Heathcote Valley
E-mail: GONDOLA@WELCOMEABOARD.CO.NZ
Website: www.gondola.co.nz
Telephone: +64 (0)3 384 0310
Transport: The Gondola is on 10 Bridle Path in Heathcote Valley. Free parking is available for those wishing to drive. Shuttles are available from Cathedral Square every hour between 9:40am and 12:40pm daily at a cost of NZ$10. City Buses 28 and 35 both transport passengers to the Gondola for NZ$3.20.
Opening times: Daily 10am-9pm.
Admission: NZ$25 (adults), NZ$12 (children 5-15 years), family pass NZ$65 (two adults and up to three children)