Palawan
Excursions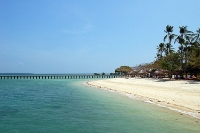 The island of Palawan is an elongated stretch of thickly forested landscape bordered by coves, beaches, lagoons and limestone cliffs, stretching from the southwest of Luzon towards Malaysia. The island is staggeringly beautiful, with irresistibly clear, gem-coloured water, lush jungle, and a coastline that is a maze of rocky islets and hidden coves.
Puerto Princesa, which is centrally located, is the main gateway to the island and from the city most travellers head north, where the most picturesque scenery can be found. The rugged south of the island is less explored and accommodation tends to be very rustic. The island's Tubbataha Reef is extremely ecologically important to the Philippines as a feeding ground and nursery for marine life, and the area is archaeologically important too. Caveman remains have been discovered on the island dating back something like 22,000 years.
The main attraction on the island, however, is the underground river, St Paul's Subterranean Cave near Sabang, about two hours by road from Puerto Princesa. The cave extends more than five miles (8km) and contains the world's longest underground river. Palawan is still 'off the beaten track', but it can be reached by a flight from Manila. For adventure and relaxation Palawan is a wonderful choice of destination.
Website: www.palawan.gov.ph