Varna Travel Guide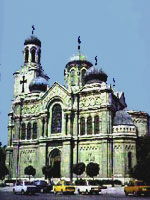 Cathedral of the Assumption of the Virgin
As the third largest city in Bulgaria, one of the country's most attractive towns, and a popular holiday destination, Varna is known as Bulgaria's Seaside Capital and the 'Pearl of the Black Sea Coast'. The town is arranged in tiers along the curve of Varna Bay, and besides being a popular beach resort, it rivals the important cities of Sofia and Plovdiv in its wealth of museums, art galleries, historical buildings and cultural entertainment, and as such is a year-round holiday destination.
The 19th-century Cathedral of the Assumption of the Virgin is an impressive landmark, while the extensive ruins of the Roman Spa in the centre of town constitutes the largest ancient building in Bulgaria, dating back to 1700. Varna is the main port for commercial and naval shipping and has a casual, cosmopolitan atmosphere with a Mediterranean charm created by the sunny climate, calm sea, beach promenades and red-tiled roofs, popular with holidaymakers.
Varna is the gateway to the nearby beach resorts, including Albena and the mega-resort of Golden Sands, and numerous scenic spots along the coast are within easy reach, such as the nature reserve at Kamchia and the crumbling rock formations and dramatic cliffs along the Balchik coast.
Shopping in Varna is focused on the massive Varna Shopping Mall, which is the largest in Bulgaria. Its 150 shops offer everything from souvenirs and beachwear to music and electronics. There are also shopping promenades located in Bul. Slivnitsa and its surrounding area.
Eating out in Varna includes a huge selection of informal cafes and good restaurants to choose from. You can enjoy mouth-watering seafood at the popular BM Zaliva with your toes in the sand, sample traditional Bulgarian food at the Mehana Koleloto, or try one of the 500 different wines on offer at Prodadena Nevesta.
Like most holiday beach destinations, this Bulgarian resort town has a number of nightclubs and bars along the sand and in the city centre, contributing to Varna's vibrant nightlife. Try the elegant Da Capo, the bustling Bordo Cafe, or the giant Comics House and Chill Out Night Club. For live music, go to the Joker's Club in the Cherno More Hotel.
Although not known for its sightseeing, Varna offers a number of museums and attractions to entertain visitors when they're not enjoying the sunny weather on the beach. The Varna Archaeological Museum has large collections of fossils and cultural artefacts, and the Bulgar Settlement of Phanagoria ethnographical village stages historical reenactments in its mock village. Varna also has a number of art galleries, theatres, and other cultural institutions. You can also make a day trip to the petrified forest a few kilometres away.
---
Many of the buildings in Varna are uninspired Socialist-era architecture and look slightly run-down, and the city is cut off from the beach by a large garden.