Aswan Travel Guide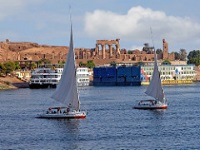 Aswan © Dennis Jarvis
Aswan, the most southerly Egyptian resort city, and a popular holiday destination, has more of an African ambiance than most Egyptian cities, due to its numerous Nubian inhabitants, who bring in their own interesting culture and customs. Although every bit as touristy as Luxor, Aswan and its inhabitants are far more laid-back and pleasant.
A picturesque city, its attraction as a holiday destination lies not so much in its historical sites, as in the peacefulness of a felucca cruise at sunset, a visit to the colourful market (Sharia el-Souq), or dinner at one of the floating restaurants on the Nile. Aswan is a perfect base from which to visit the magnificent Sun Temple of Ramses II, Abu Simbel, which is one of the most famous attractions of Egypt.
There is plenty of shopping to be done in the various markets while on holiday in Aswan, from shoes and clothes to jewellery and leather. Sharia as-Souq is a popular market in Aswan where the touts have a reputation of being less pushy than other places. Haggling is the best way to get the cheapest price. It is wise to be cautious when buying jewellery as many fake pieces can be mistaken as authentic and may give you trouble when passing through customs.
On the Nile River, the elegant Aswan Panorama offers diners on holiday a true taste of Nubian cuisine in a sophisticated setting. The Aswan Moon is a spacious floating restaurant reached by Corniche, and offers a variety of local food and views of the beautiful Nile sunsets. The 1902 Restaurant, in the Old Cataract Hotel, is reminiscent of an ancient tomb and serves French cuisine and local fish; it saw such dignitaries as Winston Churchill and King Edward VII's brother on its opening night.
While on holiday visitors will find Aswan's Elephantine Bar, located in the Oberoi Hotel on Elephantine Island, offers a relaxed yet traditional atmosphere. The Tower Bar, also in the Oberoi Hotel on the 12th floor, offers wrap-around windows with a panoramic view of the Nile River and Aswan.
A felucca trip down the Nile is one of the best ways to see Aswan while on holiday. The Nubian village and remains of ancient Memphis on Elephantine Island are well worth a visit. The far side of the Nile is desert as far as the eye can see and this is the perfect setting for a camel trek.
---
Aswan can become quite touristy and overcrowded during peak season.
What to see in Aswan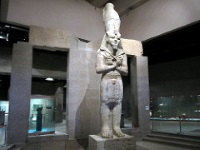 The Nubia Museum in Aswan is an excellent introduction to the history and culture of the Nubians. It contains a collection…

read more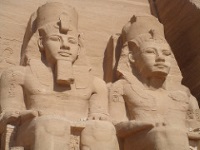 The two temples of Abu Simbel, the Temple of Ramses II and the temple of Hathor (the Sun God), dedicated to his wife…

read more