Makadi Bay Travel Guide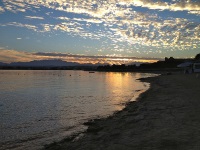 Makadi Bay © Dirgela
A relatively new purpose-built holiday beach resort, Makadi Bay is situated just 19 miles (30km) south of Hurghada along the Red Sea Riviera. This up-and-coming resort is centred on a shopping and restaurant area, which is linked to a chain of hotels strung along the beach.
Ideally suited to young families on holiday, Makadi Bay is known for its beaches, clear water, coral reefs and quality hotels that provide a perfect location for relaxation and comfort. The bay offers superb snorkelling and diving opportunities, and most hotels offer a variety of other watersports, as well as facilities to keep the whole family entertained, like golf, volleyball and tennis, luxurious spas and a host of amenities for children.
Excursions into the surrounding area are an ideal way to explore the historical sites and natural beauty nearby, while the city of Hurghada caters to those looking for a more exciting nightlife and a chance to experience a 'real' Egyptian town.
Due to the current unrest in the Sinai region, excursions out into the desert may not be advisable.