The Sinai Peninsula And The Red Sea
Taba Heights Travel Guide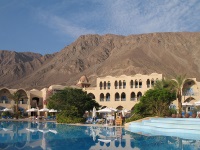 Taba Heights © Marc Ryckaert
Surrounded by picturesque crimson mountains and azure seas lies the exotic holiday resort of Taba Heights. It is ideally situated in one the most breathtaking spots on the Sinai Peninsula and lies on the border of Israel and Egypt. It is fast becoming one of the most sought-after destinations on the Red Sea Riviera and a much loved holiday spot.
Taba Heights offers a relaxed yet luxurious retreat thanks to its simple yet characteristic Bedouin camps boasting remarkable views of the sea and surrounding mountains as well as clear views of Saudi Arabia and Jordan. Taba Heights is truly the perfect destination for a lazy beachside holiday.
There are a few shops well worth a visit for gifts, and snorkelling and beach equipment, but overall Taba Heights doesn't offer much of a shopping experience for holidaymakers.
Taba offers a wide variety of cuisine for visitors on holiday to enjoy, ranging from Tuscan to oriental and international with many a seafood restaurant gracing Taba's selection of hotels. There are also pubs and grills including a splash bar located at the InterContinental, a swim-up bar and restaurant located between the pool area and the beach.
Taba Heights does not offer a lot of entertainment but it does have a 24-hour casino as well as nightly entertainment programmes featuring local talent.
While on holiday it's not common to find a golf course that offers a view of three different countries, especially in the desert, but Taba Heights Golf Resort does just that. The marina also offers boat trips across the Gulf to neighbouring Jordan and Israel. Watersports include windsurfing, water-skiing, wakeboarding, parasailing, canoeing and sailing, and the Gulf's extravagant and beautiful marine life provides wonderful opportunities for diving and snorkelling as well as glass bottom boat trips.
---
The beach is quite stony and it is recommended to take beach shoes and dive shoes for the coral reefs in the sea. Some of the hotel shops sell them, but they can be overpriced.