Gold Coast

---

---
Boca Raton Travel Guide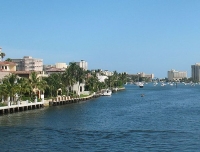 Boca Raton © ReignMan
Probably as close to Utopia as one can get, the Boca Raton Resort and Club, on Florida's Gold Coast, is America's most exclusive premier holiday resort, set on 144 hectares (356 acres) in the expensive city of Boca Raton. Luxury all the way is the expected standard in this resort community, where the entertainment centres on leisure sports, fine dining and upmarket shopping for holidaymakers. There are no glitzy discotheques, fast-food outlets or neon lights in this resort. Instead the amenities run to fitness centres, 18-hole golf courses, a marina, beauty salons, six swimming pools, a private beach and a reading room.
The resort contains a total of 1,041 luxury suites and villas to house its affluent guests. The main building, the pink palatial 'Cloister', was built in 1926 by Addison Mizner and is an architectural curiosity typical of his eccentric character, with its Moorish and Gothic influences, hidden gardens, archways, intricate mosaics and fountains. The rest of the city of Boca Raton also echoes Mizner's taste and revels in a lush, plush lifestyle. The Old Floresta Historic District is a small residential area full of Mizner-designed homes, and the old town hall, now the headquarters of the Boca Raton Historical Society, reflects his Mediterranean Revival style. Downtown the pretty pink shopping and entertainment complex is unmistakably Mizner too.
A great reason to venture into downtown Boca Raton while on holiday is to see and be seen in the precincts of Mizner Park, one of the world's most exclusive shopping centres. Characteristically Spanish/Gothic and painted Mizner's ubiquitous pink, the centre is a worthy sight even without its 45 speciality shops and half-dozen superb restaurants. Luxury cars parked outside give an indication of the status of most of the shoppers who drift from shop to shop beside manicured gardens in this outdoor mall on Federal Highway. South of Glades Road is Boca Raton's Town Center Mall, home of seven major department stores including Bloomingdale's and Saks Fifth Avenue. Interspersed are dozens of speciality shops, a huge food court and numerous restaurants.
Boca Raton is a gourmet's paradise, with hundreds of restaurants both within the resort complex and downtown offering an extraordinary range of dining options and international influences. The city's discerning residents and visitors ensure that it is well nigh impossible for a bad restaurant to survive here, so culinary excellence and quality service are virtually guaranteed. Fine dining in Boca and environs is expensive, but there are more economic options for those on a budget in the food court at the Town Center Mall, or at adjacent Delray Beach where, for example, Lucille's BBQ on Linton Boulevard serves up generous platters of traditional favourites at reasonable prices.
Nightlife in Boca Raton is not a synonym for partying or disco dancing. Evening activity centres around leisurely dining or sipping cocktails in stylish bars. Mizner Park is the venue of choice with some restaurants offering live music and dancing. In less swanky Delray Beach the club scene is a little livelier, with Boston's a long standing favourite, often with live music.
Boca Raton Resort and Club offers so many sport and leisure activities for its guests that few have the time or inclination to venture out of the resort itself. The holiday resort of Boca Raton has its own private beach offering a wide variety of watersports. The city's two miles (3km) of public beaches, however, are equally magnificent and well equipped. The quietest and prettiest beach is South Beach, half a mile long, and backed by the scenic South Beach Park. Families enjoy the action on the Delray municipal beach, popular for surfing, windsurfing, volleyball and boating and equipped with restrooms, lifeguards and adjacent restaurants. There are a few attractions in the area worth making excursions for, especially the Gumbo Limbo Environmental Complex. Keen shoppers should visit Palm Beach to explore Worth Avenue. The many attractions of Fort Lauderdale and Miami are also within day-trip distance.
---
Boca Raton may be considered too pretentious and 'snobby' by those who do not court high society. It is not a good place to visit unless you have a fat wallet and a gold credit card.