Gold Coast

---

---

---
Palm Beach Travel Guide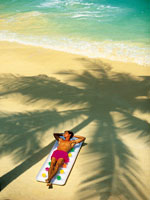 Palm Beach © Palm Beach County Convention & Visitors Bureau
The palm trees arrived at Palm Beach in 1878, when a ship laden with Cuban coconuts was wrecked here on the offshore barrier island that is only 14 miles (23km) long and half a mile (one km) wide. Some of he world's wealthiest people arrived almost a century later, and have stayed to make Palm Beach an oasis of beauty and elegance; a premier luxury holiday resort that is a magnet for the rich and famous. Palm Beach has long been the traditional winter holiday home of America's aristocracy, the Kennedys, Rockefellers, Trumps and other society names filling the fabulous Gatsby-era mansions on the island. Across on the mainland lies West Palm Beach, where 'ordinary' folk live and play. Henry Morrison Flagler was the man who started it all in 1894 when he opened the Royal Poinciana Hotel on the island and promoted Palm Beach as America's premier winter resort. The mansion Whitehall, which he built in 1901 for his wife, is now the Flagler Museum, dedicated to his memory. Today there are many more hotels in Palm Beach, and hundreds of restaurants, some of which rank among the finest in the world. The warm and breezy climate, beautiful coastal waters and breathtaking beaches are just the cherry on the top for those fortunate enough to visit this opulent playground.
With most of its full-time residents and holidaymakers being the world's wealthiest people, Palm Beach obviously has some 'power shopping' to offer. Not surprisingly the island's legendary Worth Avenue is a shopper's dream, even if your budget only goes as far as looking in the windows. More than 200 posh boutiques, galleries and restaurants are crammed into the street where all that glitters IS gold, many of the stores being quite unique. One, for example, sells vintage autographed memorabilia, some dating back to the 1600s; another is dedicated to designer wear clothing for babies from the likes of Dior and Armani. If your credit card can't take the strain, some more down-to-earth shopping is available across at West Palm Beach, particularly at the Mediterranean-inspired City Place complex, which features the usual chain stores and several moderately-priced restaurant options. There are some interesting shops in Clematis Street, downtown West Palm Beach, as well, and the Palm Beach Outlet Center on Okeechobee Boulevard offers some clothing bargains.
As one would anticipate, dining establishments in Palm Beach are as elegant and upscale as everything else, designed to delight the connoisseur with no expense spared. There are also, however, some casual waterfront eateries serving up affordable burgers and fresh seafood. Ranked as the best restaurant in Palm Beach is the Café l'Europe, which serves its affluent guests and holidaymakers traditional Continental favourites like rack of lamb. The caviar bar is a popular choice as an appetiser. Another favourite of high society is the Worth Avenue Italian restaurant, Bice Ristorante, situated in an historic Mizner villa, which is reputed to serve the best Italian cuisine in Palm Beach. In West Palm Beach dining options are more extensive, and less expensive. The speciality in the Palm Beach area is fried or blackened Grouper, and of course the ubiquitous Florida shrimp.
After dinner in Palm Beach night owls in their glad rags favour the theatre, nightclubs or sipping cocktails in a late-night café. The Leopard Lounge in Cocoanut Row is a popular haunt for young professionals, and the Royal Room at the Colony offers excellent cabaret acts. The Royal Poinciana Playhouse has a constant run of new productions for theatre-buffs. Palm Beach's hottest late-night spot is Ta-Boo on Worth Avenue, where a DJ keeps things hopping. On the mainland in West Palm Beach the after-dark scene centres on the Clematis Street entertainment district, which is flush with martini bars and trendy nightclubs. On Thursday evenings the area comes alive with the 'Clematis by night' promotion when arts and crafts vendors sell their wares to the tune of live entertainment.
The climate and environment lends itself to outdoor recreation, and in Palm Beach just about every open-air activity imaginable is available to holidaymakers, from golf to roller-blading, croquet, horse riding, skeet shooting, bicycling, hiking and even drag racing. Yachting, angling and deep-sea fishing are also popular pursuits, as is swimming and surfing on the beautiful beaches. Mid-town Beach, east of Fort Worth Avenue, is the most popular on the island, because of its proximity to town. On or off the beach, people watching - or in Palm Beach, celebrity spotting - is a favourite past time. West Palm Beach offers several sightseeing attractions worth visiting, especially the Norton Museum of Art with its international collection, the South Florida Science Museum and the Palm Beach Zoo. Also in West Palm Beach is the Kravis Center for the Performing Arts, a glass and marble showcase for drama, dance and music productions that runs a full programme of events all year round.
---
Winter is the height of the tourist season in Palm Beach, when the regular population doubles as the affluent head south to flee the cold weather. Shops and restaurants can become crowded between November and April. The summer months are extremely hot and humid.