Gold Coast

---

---
Pompano Beach Travel Guide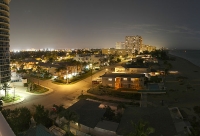 Pompano Beach © ianare sevi
Situated midway between Palm Beach and Miami, the holiday resort town of Pompano Beach is the heart of the Gold Coast, known for its excellent beaches and fishing. Anglers are understandably drawn to try their luck from the long municipal fishing pier, hoping to land a big one from the plethora of fish swimming offshore. The resort town itself is historically a fishing community, named for the area's popular ocean fish species that abounds here. While the anglers have their fun there is plenty for the rest of the family to do. The beachfront promenade offers playgrounds, grill sites and picnic tables, while the town boasts 19 parks offering sports facilities. Golfing enthusiasts are in heaven when they discover there are dozens of top-flight courses within a half-hour of the resort. Then of course there are the three and a half miles (6km) of golden sands, local attractions, fine dining and splendid shopping opportunities. The town has a full calendar of special events, including a holiday boat parade, seafood festival and fishing rodeo.
Holidaymakers and visitors from all over the world flock to Pompano Beach for a shopping spree par excellence at the Festival Marketplace in West Sample Road. This massive air-conditioned indoor flea market, open daily, is a bargain-hunter's delight, with more than 800 stores, booths and kiosks selling designer jewellery, electronics, clothes, shoes and gifts, most of it brand name merchandise. The town's main shopping centre is Pompano Citi Centre, featuring about 60 shops and department stores.
Like all the resort towns along Florida's Gold Coast, the holiday resort of Pompano Beach is festooned with a wide variety of restaurants serving every type of international cuisine, with fresh seafood predominating as the most popular choice. Also well frequented here are several sports bars featuring large television screens along with reliable food. Lighthouse Point Yacht Basin and Marina in Pompano Beach is the jumping off point for a unique dining experience: numerous celebrities have taken a boat from here to Cap's Island, where one of the world's most famous restaurants operates in a collection of wooden shanties, serving up fresh broiled fish, chowder and heart of palm salad. One of the most popular spots for casual waterfront dining is the veranda at Jeremiah's Waterfront Grille in North Riverside Drive.
Pompano Beach does not offer much in the way of nightclubs, although many of the holiday resort hotels provide an entertainment programme. After dark visitors tend to congregate in bars to play darts or pool, chat or watch sports broadcasts on television. An evening at the races at Pompano Park is a popular diversion. Those seeking nightclubs tend to travel to nearby Fort Lauderdale to enjoy the bright lights of the 'strip'.
Soaking up the sun, swimming and snorkelling on the offshore living coral reef are enough to keep most holidaymakers happy in Pompano Beach, while anglers can rent a rod and reel on the 1,800ft-long (549m) fishing pier and try their luck. The waterfront and downtown area is bristling with operators offering a variety of boat trips and excursions to all the varied attractions of the Gold Coast area, for those with a yen to explore anything from mangrove swamps to museums. Pompano Beach's own unique attraction is Pompano Park, Florida's only harness horse-race track, which offers exciting day and night events and tours for those interested in getting up close and personal with the trotters and pacers.
---
Public transport is almost non-existent, but not necessary if you are staying near the beach and do not intend to wander far. If you wish to see the sights, however, renting a car is a necessity. Most places of interest are at least 15 minutes drive or further away.