Gulf Coast

---
Naples Travel Guide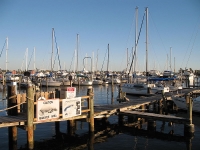 Naples City Dock © Marc Ryckaert
The sophisticated, cosmopolitan city of Naples is the jewel in the crown of Southwest Florida's holiday paradise on the shores of the Gulf of Mexico; the central area preserves its old world charm, while the modern section to the north bristles with high-rise luxury hotels and resorts. Discerning visitors flock here during the winter months to enjoy the magnificent Gulf beaches, world-class shopping and dining, and the abundant challenging golf courses. Naples is also just a hop and a skip away from Florida's top natural attractions, including the tropical wilderness of The Everglades National Park. An upmarket destination it may be, but unlike Palm Beach on the east coast, with which it is often compared, Naples exudes easy-going friendliness along with its wealthy opulence.
Holidaymakers shopping in Naples will find it stylish and select, particularly in the very exclusive 3rd Street South district, packed with designer jewellery stores and clothiers as well as art galleries, all set in French and Georgian-inspired buildings along shaded side-streets. Equally as tempting for shoppers is the Village at Venetian Bay on Gulf Shore Boulevard, a charming mall with 50 canal-side shops connected by an underground tunnel, once again featuring high-fashion clothes and art galleries. Tin City in Olde Naples is a great place to browse through an air-conditioned indoor maze of dozens of unusual boutiques and eateries, stocking everything from souvenirs to resort wear. Nearby are some other intriguing dockside shopping havens, like the quaint Dockside Boardwalk, the Olde Naples Seaport and Crayton Cove. Coastland Center Mall in the heart of town houses all the major department chain stores and a large food court.
Although Naples is by reputation geared towards the wealthy, the wide range of restaurants in the city not only offer diversity of culinary choice but also cater for different budgets. Try anything and everything from intriguing taste sensations concocted by some of the world's top culinary talents to hearty traditional favourites. Sample the tastes of Japan or France, or stick to local fare like grouper and chips or stone crab claws. Visitors can select from numerous settings, too, from a romantic leafy tryst under the stars, or an elegant waterside terrace to a trendy downtown establishment on 5th Avenue South or 3rd Street South.
Most of the bars, bistros and restaurants along 5th Avenue South are popular with the younger set at night, particularly weekends, although an enduring classic such as the Old Naples Pub is always popular. Numerous establishments in the old waterfront area have live music. For more cultural entertainment take in a performance of the Naples Philharmonic orchestra or check out 'what's on' at the Philharmonic Center for the Arts which has a year-round schedule of concerts, plays and shows.
Top of the list of 'must do's' in Naples when on holiday is visiting the beaches, which are easily accessible unlike the rest of the Gulf coast areas where the best beaches are across causeways on adjacent barrier islands. The most popular beach is the municipal beach, site of the landmark Naples Pier, which can become very crowded, as does the entire section fronting the mansions of 'Millionaire's Row' in Olde Naples. Quieter, for those wanting to relax with a book rather than people watch, are Delnor Wiggins Pass State Recreation Area at Vanderbilt Beach and Clams Pass Beach Park (reached by tram).
When it comes to sport just about everything imaginable can be enjoyed in and out of the water, but the most satisfied visitors of all are surely keen golfers, who are spoilt for choice when it comes to the number of golf courses in the city limits and suburbs. Those who have never swung at a golf ball before could join a golf school and get kitted out in a pro-shop. For a thrill ride and an exhilarating brush with nature take a day trip to the Everglades for an airboat ride, or simply stay in town and explore the local attractions like Naples Zoo and the Naples Museum of Art.
---
Peak season, between December and May, can be very crowded. Out of season there can be cold snaps and many restaurants are temporarily closed.