Clearwater Beach Travel Guide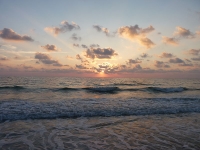 Sunset on Clearwater Beach © Waters2100
Known for the breathtaking sunsets over the Gulf of Mexico and warm tropical breezes, the holiday destination of Clearwater Beach is the crème de la crème of Florida's west coast and has consistently been voted one of the top 10 beaches in the United States. Florida wasn't dubbed the 'Sunshine State' for nothing and with Clearwater holding a record 361 days of sunshine per year, it's no wonder it has become one of the fastest growing holiday destinations in the world. Clearwater is a safer, more affordable, quieter and calmer option than other more prominent destinations in Florida. Who could resist? With over two and a half miles (4km) of beautiful, tropical sandy white beaches to frolic on, Clearwater Beach has some of the best water activities in Tampa Bay and its beach restaurants offer some of the ocean's finest fare. The ideal setting for a romantic stroll along the beach at sunset, gently rocking in a canvas hammock under the rustling palm trees or exploring the oceans' secrets aboard a pirate ship cruise, there is something for everyone in Clearwater Beach.
Arguably one of the most unique and exciting places to do a spot of shopping while on holiday in Clearwater Beach is during 'Sunsets at Pier 60', where homemade art and crafts items created by local artisans are sold, including jewellery, candles, puka shell necklaces, shark's teeth and other exotic souvenirs and gifts. Along Mandalay Avenue, countless T-shirt stores flog everything from suntan lotion to boogie boards. Clearwater Beach offers plenty of shopping malls, specialty shops, boutiques, clothing stores and much more to fulfil every shopaholic's last craving.
Clearwater Beach has a wide variety of restaurants to enjoy while on holiday, with seafood lovers especially well catered for. Frenchy's consists of three restaurants, each with its own unique charm and signature dishes: the Saltwater Café serves the ocean's freshest fish and the tastiest Stone Crabs in Clearwater; the Rockaway Grill offers mouth-watering steaks; and the Original Frenchy's Café provides a wonderful variety of foods for the more indecisive diner. Boasting the best location to watch the sun dip below the horizon, Jimmy's Fish House and Iguana Bar offer a more relaxed and fun atmosphere with live entertainment nightly, making it a fantastic spot for a slightly more casual yet upbeat dining experience.
Watching the sunset while sipping on a cocktail at one of Clearwater's many beach bars is a favourite way to ease into the night while on holiday. Once the stars come out Clearwater comes to life with bars, nightclubs and comedy clubs proving to be the most popular nocturnal activities. Shephard's Beach Resort is party central, with the bright and very noisy Wave Club on the first floor of the hotel. Located just outside the hotel on the soft sandy beach is the Tiki Bar where live bands perform almost every night.
With 44 golf courses in the area and two and a half miles (4km) of coastline, there are plenty of leisure activities and watersports for holiday visitors to enjoy in Clearwater. From Jetskis and parasailing to boat tours, diving, fishing and sailing charters, visitors are guaranteed to spend countless hours in the Gulf's warm waters. Pirate ship cruises aboard the 70-foot (21m) three-tiered Pirate's Ransom are a must for anyone up for a swashbuckling good time. The Jolley Trolley is a great way to visit some of the surrounding attractions, such as Sand Key and the Clearwater Marine Aquarium. Pier 60 is known as the central hub of Clearwater Beach featuring a playground for children and hosting one of the most famous nightly events, 'Sunsets at Pier 60', where visitors can partake in live entertainment with street performers.
---
Clearwater Beach has become quite overdeveloped in recent years. The beach also gets very busy on weekends and it's advisable to secure a spot on the sand early in the day.