Basque Country

---
Ski Resorts

---

---

---

---

---

show more Ski Resorts
Biarritz Travel Guide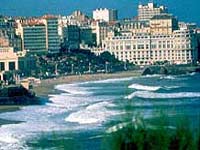 Grand Plage, Biarritz © Biarritz Tourisme
Situated in the very southwest of France, the holiday destination of Biarritz became famous in the 19th century when Empress Eugenie (the wife of Napoleon III) fell in love with this part of the Basque country and built a palace on the beach (which is now the world-class Hotel du Palais) and a centre with natural springs at Eugenie les Bains.
Soon the area became popular with aristocracy from all over Europe; Queen Victoria came here regularly over a period of 30 years, Edward VI stayed in the Hotel du Palais days before his death, and in the 1930s Edward VIII and Wallis Simpson were regular visitors. Until the revolution in 1917 the Russian nobility wintered here and built the magnificent Orthodox Church next to the Palace.
However, the days of being reserved for high society are long gone and today Biarritz is an affordable, vibrant and cosmopolitan town with magnificent beaches. There are a couple of interesting museums, including the Musée de la Mer which houses 24 aquariums of fish native to the bay; try to visit during seal-feeding time (10:30am and 5pm).
Biarritz has good sporting facilities, including some excellent golf courses and the best surfing in France. Each summer, surfers from all over the world come to Biarritz to ride the waves at the annual Surf Festival. Those after more gentle exercise while on holiday opt to stroll along Biarritz's principal promenade, Quai de la Grande Plage.
Several Biarritz stores sell holiday souvenirs such as Basque tablecloths, handmade sandals, antiques and jewellery. Almost every shop in the region sells espadrilles (traditional slippers), and all the major boutiques with big designer names can be found on Place Clemenceau in the centre of Biarritz. Excellent Biarritz chocolates and confections can be found in chocolatiers like Pariès, Daranatz, and Henriet, while Mille et Un Fromages specialises in French cheeses.
Biarritz has a good mix of brasseries, casual taverns and formal dining, offering diners on holiday a variety of good local cuisine and classic French fare. Chez Albert is a locals favourite serving excellent seafood in a lively Basque atmosphere; la Concha is also a good bet for seafood. For tapas and good, authentic Basque food and appeal head to Bar Jean or Le Bistroye where local dishes are a speciality.
Biarritz has an active nightlife that includes nightclubs and a casino to enjoy while on holiday. Le Casino Municipal has an informal section with slot machines and an elegant section reserved for table games. Le Caveau is arguably the city's best nightclub and the hip Le Copa Cobana is fun for Latin salsa along with every other kind of dance music; Le Cayo Coco is best for Cubano music and tequilas. The best way to start the evening is in a deckchair at Côte 57 where the cocktails help the sun to go down.
Biarritz is steeped in the surfing culture and is considered to be the surfing Mecca of Europe. Surfing has become a symbol for Biarritz and the Basque Coast and there are numerous surf schools that offer lessons for holiday visitors; the main surfing spot is at Grand Plage, and longboarders should head to Côte des Basques. Golf has also reached legendary standards in Biarritz with greens around town offering first-rate facilities and an exceptional setting. A long tradition of marine benefits to health and beauty (thalassotherapy) has created a spa environment in Biarritz; the Thalassa Institute at the Hôtel Miramar and the Thermal Seawater Baths of Biarritz offer a variety of care in high quality settings. Horseriding, tennis and squash are other activities on offer, or if simple relaxation is on the agenda then any one of the fine beaches will do.
---
Biarritz gets very crowded during the peak summer holiday season (June to August).