Basque Country

---
Ski Resorts

---

---

---

---

---

show more Ski Resorts
Saint Jean De Luz Travel Guide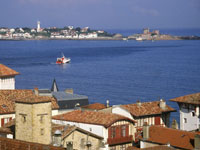 Saint Jean de Luz
A popular seaside holiday resort and active fishing port, Saint Jean de Luz is a lively and cosmopolitan town to visit. The lovely medieval town centre has been influenced by Spain and the Moors over the years and has a mix of interesting architecture throughout the narrow streets, blending old and new buildings. Considered one of the most attractive cities in Basque country, the beaches, shops, spas and other attractions draw tourists to this spot just above the Spanish border.
The pedestrian avenue Rue Gambetta provides the best shopping in St Jean de Luz, and you'll find everything from clothes and linens to leather goods and books. The newer, more commercial end of Saint Jean de Luz is littered with chic shops and boutiques. Popular souvenirs are the delectable chocolates and candies like nougat and tourons. Maison Adam and Confiserie Pariès provide the best examples of these.
Saint Jean de Luz is an active fishing port, and seafood is a local specialty with sardines, tuna, and anchovies available fresh in abundance. Some of the best seafood restaurants in the region are around the town's main square, including Le Kaïku and Zoko Moko.
There are numerous bars and terraces from which to see and enjoy the regular musical events in the square. Most bars are open until around 2am, and much of the nightlife is centred around the casino. The Pub du Corsaire in the centre of town has an unpretentious air with rock and roll on the jukebox, but for the ultimate party head to the flashy and crowded Le Brouillarta on the promenade.
The beach is well-equipped for sunbathing and watersports, and there is good surfing at Lafitenia Beach. There are many small museums, aquariums, caves, and interesting architectural sights in Saint Jean de Luz, including the Chateau d'Arturbie, with its castle and manicured gardens. La Maison Louis XIV has rich collections of antiques and collectibles, as well as wax figures of important 17th century people. The lighthouse at Pointe Ste.-Barbe offers fantastic views of the area.
---
As with many French resorts, prices can be quite high.