Brittany

---

---
Ski Resorts

---

---

---

---

---

show more Ski Resorts
St Malo Travel Guide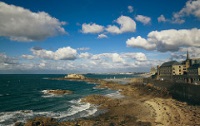 St Malo © Cristian Bortes
The lively holiday resort town of St Malo boasts a colourful history as a fortified island citadel that was once run by corsairs who declared it a republic. Today this port on the English Channel swarms with tourists on holiday, its streets choked with tour buses in the summer months and its natural harbour acting as a busy ferry terminal for those crossing between Britain, France and the Channel Islands, just to the north.
Because of St Malo's medieval charm, many visitors opt to spend a night or two here before their ferry crossing, and are rewarded with a pleasant sojourn behind old city walls in a quaint collection of hotels, restaurants, bars and shops. Just a hop and a skip away are some vast, clean, brown sandy beaches, ideal for family holiday fun. Stroll the ramparts of St Malo's great city walls as the sun sets and it is easy to realise why this ancient city is now the most popular holiday destination in Brittany.
There are a number of stores scattered around the old town, ranging from trendy boutiques to tacky tourist shops. The place de la Poissonerie hosts a bustling market on Tuesday and Friday mornings, and a Wednesday and Saturday market in nearby Paramé. Most shops close by 7pm.
St Malo has many good restaurants, making it a great place to try Breton cuisine, including specialties like Kouign Aman cake and Breton Pancakes. Seafood, specifically mussels and oysters, is another local specialty, which is to be expected in a seaside town. While fresh seafood doesn't come cheap at upmarket St Malo restaurants there are a number of creperies that suit a diner on a budget.
St Malo's nightlife is relatively quiet, though travellers will find a few lively bars and discos. Visitors in search of a real party can follow the local youth to nearby Rennes on the weekends.
St Malo has a number of popular beaches, all covered in fine, golden sand. Mole is where sun-worshippers congregate, while Sillon is popular for watersports like windsurfing and Bon Secours for sailing. The old town is pleasant to stroll through, with quaint medieval cobbled streets and photogenic views. There are a few historical attractions in St Malo as well, including the Ile du Grand-Bé (site of the tomb of Chateaubriand), the Historical Museum of St Malo, and St Vincent's Cathedral.
---
While swimming is allowed on most beaches, there is a strong undertow that makes it unsuitable for weak swimmers.