Corsica

---

---
Ski Resorts

---

---

---

---

---

show more Ski Resorts
Ajaccio Travel Guide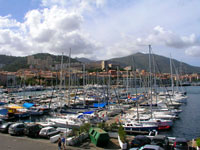 Ajaccio
The capital of Corsica, the holiday destination of Ajaccio lies in a calm bay on the west coast of Corsica, set against a backdrop of wooded hills. It is a relaxed rather than lively town and visitors come here on holiday to enjoy its wealth of cafés, restaurants and shops. The birthplace of Napoleon Bonaparte, the town takes full advantage of its famous resident to lure tourists. Ajaccio is a good doorstep into the rest of the island.
Most souvenirs from Ajaccio are related to Napoleon, but don't overlook the region's excellent wine. Ajaccio has its fair share of little shops but it is not a shopping paradise. You will find everything you need and some lovely things you don't need but compared to some other places in France the shopping here is minimal.
There are many restaurants overlooking the promenade in Ajaccio, which are excellent places to enjoy local seafood. L'Amirauté and Le Floride have long-standing reputations and wonderful views. Chez Paulo has the best pizza in town.
Ajaccio doesn't have a loud or pumping nightlife, but focuses more on old-fashioned cafés and salons de thé. There are many cocktail bars overlooking the bay on boulevard Lantivy. You will find plenty of lovely watering holes but not a vibrant club scene.
The sights in Ajaccio mainly revolve around Napoleon, who was born here. The town's main attractions are the magnificent cathedral where Napoleon was christened, the Bonaparte residence, and numerous statues and street names related to his family. Corsicans themselves are not particularly proud of the island having spawned Napoleon, and many consider him deridingly as a jumped-up Frenchman. Locals in Ajaccio are, however, willing to boast about the Musée Fesch, which contains the art collection of Napoleon's maternal uncle, Cardinal Fesch. The collection of Italian paintings is considered to rate second only to that of the Louvre and are well worth seeing while on holiday in Ajaccio.
---
Public transport in Ajaccio is unreliable.
What to see in Ajaccio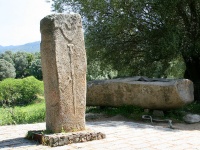 The most celebrated prehistoric site in Corsica, Filitosa is worth a visit for its megalithic menhir statues, which have…

read more