Ski Resorts

---

---

---

---

---

show more Ski Resorts
Disneyland Paris Travel Guide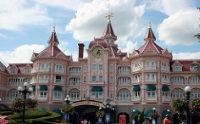 Disneyland Park © David Jafra
The blueprints for the holiday destination of Disneyland may have been developed in the United States, but the world's favourite theme park concept has transported exceedingly successfully to Europe. Situated 20 miles (32km) east of Paris, Disneyland Paris (also known as EuroDisney) is a vast complex of hotels, restaurants and shops together with the exciting theme park. Those in the know have it that Europe's Disneyland is actually better than its US counterparts, boasting more modern technology and existing in the ambit of less control and different safety regulations. Then, too, EuroDisney has also unavoidably picked up a European flavour which adds charm and intimacy to the entire experience.
EuroDisney actually consists of two theme parks: the Disneyland Park, based on California's iconic Magic Kingdom, boasts 53 awesome attractions, drawing thousands of holidaymakers every year; the Walt Disney Studios was built more recently and follows the trend of the Disney MGM Studios in Florida, USA, using movie-like settings for its thrill rides and experiences. Adults and children alike become enchanted and enthralled as they explore fantasy neighbourhoods bristling with Disney characters, and stop to take in the spectacle of the day and night parades.
Most visitors come to EuroDisney on a package deal that includes onsite hotel accommodation and passes to enjoy the shows and attractions. At least two days are required to make the most of the Disney magic, and there will still be plenty left for a second visit!
Holidaymakers should make sure they take plenty of spare cash to Disneyland Paris if shopping is their passion, because besides offering thrilling entertainment, the resort also offers one of the largest, glitziest shopping centres in Europe, in the form of the Val d'Europ. Shoppers will need to hop in a taxi, or ride one stop on the train, to access this centre which consists of acres of outlet stores, known as La Vallee, and a vast two-storey mall. Buy anything from designer fashion to a toothbrush!
Apart from numerous restaurants in the Disneyland Paris hotels, the holiday park offers dozens of eateries, from full-service French restaurants, to hot-dog stands. The cuisine is mostly fast-food family fare, but there are also plenty of quality restaurants to tempt the palate and dent the pocket. The most difficult aspect of dining in Disneyland is deciding on where and what to eat, so vast is the choice.
Disneyland Paris is a pleasure resort of the first order, designed to entertain, enchant and delight holidaymakers. Wander down Main Street USA, take a steam train ride, hike over to Frontierland and ride the thrilling Thunder Mountain, or rock and roll on the Pirates of the Carribean ship. The thrills and spills are endless. During the afternoon and evenings there are stunning fantasy parades to watch, and the night sky is often jewelled with fireworks displays. In addition various theatres and performance venues offer live shows. Opening hours are usually from 9am to 10pm in peak season, with opening and closing hours moved up an hour or so during winter.
---
Queues in summer can be very long and trying for impatient children (and adults). The prices are also very steep, even by European standards, and parents should take this into account.