Hania Travel Guide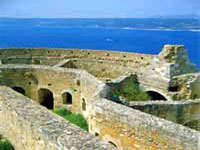 Ancient site of Aptera © GNTO
The largest city in western Crete and (together with Rethymnon) the most attractive, Haniá (also spelled Chania) is a historically charming labyrinth of jumbled Venetian and Turkish buildings surrounding a small harbour, with colourful markets, town squares, craft shops and fine dining possibilities - a perfect Greek holiday destination. Narrow, winding lanes are lined with tavernas, cafes and shops, and ancient alleyways lead to endless photographic opportunities that encompass overhanging wooden balconies, delicate stonework and white Orthodox churches. Parts of the old city walls and buildings have been excavated and can be enjoyed just by walking about town.
The port area of Haniá is the oldest and most interesting part of town and holidaymakers will find it busiest at night with many bars and restaurants. A promenade curves around the harbour leading from the main hotel area. There are a few museums worth visiting, including the Archaeological and Naval Museums, and the famed walk through the Samaria Gorge is a worthwhile excursion from the town.
Holidaymakers should visit the Public Market in Haniá for fresh produce and a fish market, vegetable stalls, grocery shops and butchers. Around the cathedral are some of the better shopping areas, especially Odhós Skrídhlof (Leather Street) that is lined with traditional leather-making shops. There are endless jewellery, souvenir and craft shops, but for distinctly Cretan goods go to Carmela (artworks and ceramics), Cretan Rugs and Blankets or Roka Carpets (traditionally woven goods), and the Local Artistic Handicrafts Association for a selection by local artisans. Orphanos has a collection of dolls and marionettes for a different souvenir from the island. This picturesque port city has more than enough shopping to occupy tourists.
Around the harbour in Haniá, holiday visitors will find numerous tavernas, restaurants and cafes, but with little variation in price and menu. Dino's Taverna is one of the best choices for seafood with a view of the harbour, or Thalassino. Away from the water are plenty of cheaper options on Kondhiláki, Kanevárou and many of the streets off Halídhon. For more traditional places the area around the market and along Dhaskaloyiánnis is good. Fast food is also widespread and there are numerous souvlaki places on Karaolí, near the Naval Museum, across from the market and at the end of the outer harbour. Locals and particularly expats favour Meltemi, which is good for breakfasts and has a relaxed terrace bar, while the main square, Platía-1821, is the traditional plaza to stop for a cup of coffee.
Most of the clubs and discos are centred on the inner harbour in Haniá, but there are plenty around the outer harbour and throughout the old quarter where holidaymakers up for a party can enjoy a night out. Popular bars include Ta Dhyo Lux, Fraise and the Four Seasons, and the string of terrace cafes along the Aktí Miaoúli seafront draw the under 30s. Late night nightclubs include Ariadni (inner harbour), Millennium, Titanic and N.RG (old town), which get going after midnight and stay open till the early hours. More traditional Greek music and dancing can be found at Café Kriti on Kalergón Street. A popular hangout for the large gay community is Ta Padia Paizei, on Odos Archoleon.
There are numerous good museums in Hania; one of the best is the Maritime Museum which has some interesting models. There are also many possible excursions and daytrips to see the myriad attractions of Crete, which could fill a long holiday. The beaches are also gorgeous - there are both pebble and sand beaches. Some of the most popular ones are Elafonisi, which can only be reached by boat, Balos, Falasarna, Almerida and Chryssi Akti (Golden Beach) which is very close to the city. However, Hania truly is a quaint and lovely city and your time is best spent allowing yourself to get lost in the narrow streets and seeing what surprises you can find.
---
The pavements in Hania are very narrow making strolling along the streets a bit hazardous. There are also no direct flights.