Malia Travel Guide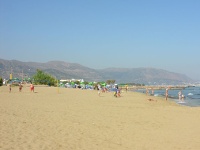 Malia © phileole
The town of Malia, on the north coast of Crete, is ancient but its appeal as a holiday destination is unquestionably aimed at 18 to 30-year-old revellers out for fun, sunny days and steamy party nights. The ruins of the 2000 BC Palace of Malia, a mile or so from the neon strip of the modern holiday resort, draws a few tourists but most are more intent on taking excursions to enjoy the thrills and spills at the water park about 15 minutes away, or soaking up the sun, swimming and sea sports on the miles of beautiful white sandy beach.
Modern Malia is a hodge-podge of apartment and hotel complexes, tavernas, cafés, kiosks and shops crammed along a busy strip, offering everything the package tour holiday could include. At night the lights are bright and the music pumps in Malia's many cosmopolitan pubs and clubs until sunrise. The most attractive feature of a Malia holiday is its three miles (5km) of sandy beach, washed by crystal clear sea, under blazing sun. There is no natural shade but the beach is well-supplied with parasols and sunbeds, and dotted with bar kiosks and watersports operators. The road into the mountains south of the holiday resort, leading to the pretty village of Krasi, offers a scenic alternative with its wooded slopes and rushing springs.
A Malia holiday offers the predictable range of Greek resort shopping, from flip-flops and sun cream to jewellery and leather goods. All the shops are clustered along the strip and open between 9am and 10pm, seven days a week. Good souvenirs to look out for are embroidery and other handcrafts, as well as the delicious local cheeses and wine. Ceramics, leathergoods and jewellery are all popular as well.
There is no shortage of restaurants of all sorts in Malia, whether it be for slowly-savoured traditional Greek food or a quick pasta or take-out burger. The 24-hour McDonald's is probably the lowest-budget option, while the most expensive establishments are those with a sea view and classy ambience. Most of the restaurants offer menus featuring British favourites along with a few Greek specialities, but there are numerous different international cuisine options, particularly Italian, Indian and Mexican. The Red Lion is popular for English breakfasts, while Jasmine House has good Chinese, and for an authentic Greek meal try the Kreta Taverna.
Malia's nightlife has a reputation for being one of the Mediterranean's hottest for young clubbers and pubbers, on a par with Ibiza and Majorca. The main strip along the beach is thick with touts and barkers luring clients into their establishments with promises of free admission and a variety of special offers, such as 'two drinks for the price of one', or free shots. There are a number of popular bars and cafes open late, and you can try karaoke at Premier Bar or drink a cocktail from a melon at the Yiassou Melon Bar. The Malia clubs take their lead from their UK counterparts, boasting names like London, Newcastle and the Corker Club, and are occupied mainly by young Brits. In the early hours many of the revellers end up sleeping off their drinking sprees on the beach before seeking out breakfast and bed.
On a Malia holiday, energetic holidaymakers can fill their days with all manner of watersports, particularly on the busy Dolphin and Agapi beaches, from banana boat and jet-ski rides to waterskiing and para-sailing, or a gentle pedalo outing. Many beaches have daytime bars with deejays providing music on the sand. Volleyball and football games are also regular features on the Malia beaches. There are two crazy golf courses on the sea front. Various excursions are on offer, from forest hikes to archaeological expeditions. Most visitors hire a quad bike, motor scooter or a car for all or part of their visit in order to explore further afield, or take a jeep safari.
---
Although Malia has a long, wide stretch of beach it becomes heavily crowded during the height of the summer holiday season. The resort has been largely taken over by young Brits, from teens to early 20s, whose behaviour is often lewd and bawdy, therefore it is not suitable for a family holiday.