Kefalos Travel Guide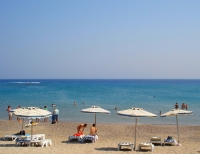 Kefalos © Kevin Gibbons
Kefalos is a purpose-built holiday resort with a laid-back atmosphere situated in the southwest of the island of Kos. It is surrounded by spectacular scenery and sits beneath the old town of Kefalos, from which it takes its name. This village is still quite authentic and traditional and many of the people live much as they have for decades, despite the popular resort on their doorstep. This adds a certain old-fashioned charm to the area. The resort has plenty of good restaurants and a couple of small nightclubs, but is mainly geared towards tourists looking for a relaxing beach holiday.
Kefalos itself is dotted with the usual souvenir shops and grocery stores geared towards holidaymakers, but more seasoned shoppers usually find themselves heading to Kardamena or the very cosmopolitan Kos Town where there is a much larger variety of shops, markets and boutiques to choose from, and bargain hunters can buy anything from homemade jams and honey to expensive hand crafted jewellery and other trinkets.
Kefalos boasts some of Kos's best restaurants with authentic Greek options and popular barbeque joints, among other things. Travellers who prefer to be cautious will find friendly international staples, and those looking to sample something new will find more exciting local options.
Kefalos is not as well known for its nightlife as some other Greek holiday resorts, but it is by no means boring. A number of bars offer cocktails and live music, and this fun but low-key night time entertainment is the norm for the resort.
The beach in Kefalos is a mix of sand and shingle and is ideal for lazy holidays in the sun. The sea is clear and warm making it well suited for all the watersports that can be arranged here. Some of the best beaches in Kos are nearby, including Paradise Beach. There are fascinating historical sites scattered around the island, particularly in the capital of Kos Town, 90 minutes away. So close that you can swim to it is the Agios Nikolaos Monastery. Further afield, boat tours can be arranged to the spectacular volcanic island of Nisyros and to Rhodes (though be aware the journey takes about three hours).
---
The shingle beach in Kefalos can be very hard on your feet. Make sure you have good sandals for the beach and even swimming shoes.