Lesvos

---
Molyvos Travel Guide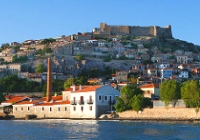 Molyvos © Jean-Francois Renaud
The most picturesque town on Lesvos island, the holiday destination of Molyvos, on the northern tip, is also Lesvos's most popular holiday resort, offering a serene, laid-back ambience from its pretty harbour to the tiers of red-roofed stone houses that slope up from the blue sea to a hilltop crowned with a medieval castle. Molyvos was known as Mithymna in ancient days and has been occupied since prehistoric times, as a visit to the town's archaeological museum will demonstrate.
Lazy days in Molyvos are spent bathing, snorkelling and sunbathing on the pebbly beach, or strolling the quaint cobbled streets of the wisteria-shaded market around the central square. As the day wanes, sip a cocktail on the balcony with a spectacular sunset as a backdrop, followed by a delicious Greek dinner under the stars at a taverna on the waterfront. Many visitors confess to finding Molyvos 'too good to be true', almost a stage setting for the perfect Greek village, and as one watches the world go gently by from a shaded taverna it is easy to agree with this perception. Although it does become very crowded during the height of summer, the town is a protected conservation area and will hopefully hold on to its authentic atmosphere.
Molyvos has an enjoyable market for holidaymakers to explore, set along cobble-stoned alleys radiating from the central square, and shaded by lush foliage. Among the many touristy souvenirs on offer there is also plenty of local produce and crafts, and several shops with a selection of local art. While not designed for serious shopaholics, browsing here is a pleasant way to pass an hour or two. There is also a supermarket for self-caterers.
For holidaymakers to really appreciate dining in Molyvos, visitors have to be prepared to 'go Greek' and sample the fare on offer at the many traditional tavernas, situated mainly around the harbour and the market area. This being a fishing village, seafood is obviously the pride of most local menus, particularly mackerel and sardines.
While it may not be crammed with rowdy young clubbers and pubbers, the holiday resort of Molyvos is not totally devoid of jolly after-dark activity, with a variety of lively bars in town, and a few discos and clubs on the fringes, with enough energetic youngsters to fill them. Most of the night time noise and bustle is set well away from the hotels, so those who enjoy early nights will not be disturbed. In high summer Molyvos has a popular arts festival with performances at the Castle, and there is also an open-air cinema showing English films.
Molyvos is built on rock, and therefore the town's beach is covered in coarse grey pebbles. It is, however, Blue Flag certified, pristine and washed by crystal water, well supplied with sunbeds and seasonal watersports. Those who are more active can enjoy walking either up or down the coast to find their own secluded hide-away for bathing or snorkelling. Just a short distance to the south, at Petra, there is a broad sandy beach for those who dislike the pebbles. The town has a lot of photogenic traditional architecture, and is home to the scenic Gattilusi Castle.
Aside from exploring the village, visitors can take organised excursions or hire their own transport and set off to see the sights of the rest of the island, which are many and varied. A popular outing is to experience the natural thermal baths at Eftalou, to the east of Molyvos. There are also various boat trips on offer at the harbour, some to the Turkish mainland, or for a fun alternative try donkey trekking.
---
Some holidaymakers have been disappointed to find Molyvos' beach to be pebbled. On weekends in the summer there is a high volume of motorbike traffic that can be unpleasantly noisy.