Faliraki Travel Guide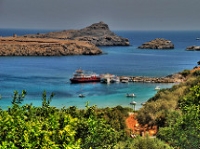 Faliraki © Francesco Sgroi
One of the most popular resorts for party-people, sun worshippers and youngsters, Faliraki never seems to go out of fashion, despite constantly reinventing itself. Situated on the east coast of Rhodes, the island's most developed beach resort is just fourteen miles (9km) south of the capital, Rhodes Town. Faliraki is renowned for its four-mile (2km) stretch of sandy beach that is packed with deckchairs, umbrellas and sunbeds, and offers every kind of water-based activity from parasailing to jet skiing. It also has a lively nightlife and plenty of restaurants and shops to keep holidaymakers busy for however long they choose to stay.
It is possible to do fun boating day trips around the other small bays of Faliraki, including Kathara Bay, which is one of the most picturesque on the island and has a nudist beach at one end. Anthony Quinn Bay is famous for the filming of The Guns of Navarone. There are also several, undeveloped beaches between Faliraki and Lindos, such as the pebbled Traganou beach, which will appeal to those who prefer their beaches unspoiled and natural. All the beaches are desirably clean with crystal-clear waters that just beg to be enjoyed.
Faliraki Square shopping centre provides everything a holidaymaker needs, from an inflatable 'lilo' to local crafts, or even the toothpaste you forgot to pack. Shops also stay open very late in the warmer months which is useful. Those who enjoy serious shopping can take a trip into Rhodes Old Town and delight in haggling for bargains in the narrow, cobbled streets. Good buys include leather bags and sandals, rugs, gold and silver jewellery and ceramics.
Faliraki is well-supplied with a huge variety of restaurants, from traditional Greek tavernas to Chinese and nearly every cuisine in between. Cuisine is geared to the tastes of young British tourists and there is nothing much in the way of fine dining. Prices range from cheap to reasonable. Fast-food bars abound, staying open until the wee hours when revellers can snack on a souvlaki while they watch the sun rise. The dining options in Faliraki may not be sophisticated but there is variety and good value to enjoy.
Bar Street and Club Street in Faliraki live up to their names and reputations as a paradise for young clubbers and pubbers with cheap bars and clubs offering two-for-one drinks and the like. The choice of dance floors and watering holes is abundant.
There are karaoke bars and sports bars to enjoy as well as clubs offering pumping dance floors and entertainment from renowned international DJs. Some of the clubs are capable of holding up to 2,000 revellers!
For many guests at Faliraki resort the vibrant nightlife is a significant draw card.
Active holidaymakers who want a break from soaking up the sun on the golden sands can choose from a variety of fun pursuits on offer at the two large watersport centres on the beach - everything from banana-boat rides and pedalos to bungee-jumping. The clear waters are perfect for scuba diving and snorkelling. Faliraki also has one of Europe's biggest and best water parks, offering slides, lazy river rides, rafting, a wave pool, aqua-gym and numerous other thrills and spills.
A must for visitors is to take a local bus to explore the sights and sounds of Rhodes Town, with its medieval core, or delve into some archaeology in the pretty town of Lindos with its hill-top acropolis. Rhodes is one of the most popular holiday destinations in Greece and there is a lot to see and do on this famously lovely and historically rich island; guests at the resort won't struggle to find exciting excursions.
---
Faliraki has received some bad publicity in recent years because of the rowdy, drunken behaviour of some of the young holidaymakers that flood the resort each summer. For those who care nothing for the nightlife and want a peaceful beach retreat Faliraki is not the right resort.