Lindos Travel Guide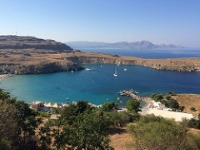 Lindos © tracy the astonishing
Most tourists on Rhodes at least visit the charming Lindos, 29 miles (47km) from the island capital. Lindos was once the capital of the island but today is basically a holiday resort centred on a small medieval village, topped with a fortified ancient Acropolis. The village is quaint, with cobbled streets and white-stuccoed houses sloping down to the sea. Lindos has lots of character and a pleasant combination of ancient and modern attractions.
The Acropolis is reached from Lindos through a series of steps, which can be ascended on donkeys or on foot. From the outside, the Acropolis does not betray its Hellenistic origins because the original complex was surrounded by a strong fortification in the Middle Ages by the Knights of St John, but inside are the Doric Stoa, propylaean ruins, the sanctuary of Athena and the Byzantine church of St John. Apart from these historic gems, Lindos boasts some of the few sand beaches on the island, and the town has a number of restaurants, bars, and clubs, all catering to the tourist crowd. Many celebrities have chosen to buy or build holiday homes in the Lindos vicinity and frequent the cafés and tavernas lining the beachfront.
The old town of Lindos is a labyrinth of winding, picturesque streets where visitors can get happily lost for hours browsing through the quaint little shops which display a variety of goods, including clothes, jewellery, pottery, leather goods and traditional crafts. This area is great for souvenir and gift shopping. There are also some simple resort stores catering to the needs of tourists, and during summer a number of stalls and kiosks spring up selling beach basics and snacks.
The Lindos dining scene is characterised by lovely rooftop restaurants and bars with spectacular views and although the Greeks tend to eat supper quite late, visiting an establishment with a great view is a must during sunset which captures Lindos at its most beautiful. Restaurants cater to a number of tastes and budgets and it isn't difficult to find a good place to eat out.
There are numerous bars in Lindos and those into a relaxed or romantic atmosphere after dark will enjoy many of these establishments, but the partying scene is not raucous in Lindos and to accommodate the locals and visitors who prefer a peaceful night the music is turned down at about 11pm and everything closes at a reasonable hour. Some clubs offer more energetic entertainment but these tend to be fairly far from the residential areas and hotels so that the noise doesn't bother anyone not involved in the fun. Many hotels have their own bars or even clubs.
The beaches in the area are lovely and there are lots of watersports on offer for the energetic, including great diving, snorkelling and sailing. There are also plenty of historical and archaeological attractions to explore, which is one of Lindos's main draws as a resort; as well as lounging in beachy luxury and enjoying the beauty of Greece, visitors can get a taste of the ancient world that once thrived on Rhodes. Apart from the fascinating Acropolis, which has many treasures, the ruin of an ancient theatre has been discovered on the slope below, and this site is also worth visiting. For those keen on excursions Rhodes has myriad attractions and there are a variety of wonderful day-trips on offer.
---
Lindos is a great destination for families or couples seeking a romantic retreat but youngsters set on partying may be disappointed by the fairly sedate nightlife. Like all popular Greek resorts Lindos can get very crowded in summer.