Thassos

---

---
Golden Beach Travel Guide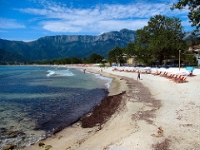 Golden Beach © Ronald Saunders
Golden Beach is a holiday destination on the east coast of Thassos island, where hotels and apartment complexes have sprung up in recent years to cater for the ever-increasing number of holidaymakers who are discovering this so far unexploited Greek island.
The Golden Beach holiday resort has a magnificent white sand beach and easy access to two quaint villages, Potomia and Panagia, which provide everything one expects from a Greek island holiday. Compared to most other Greek resorts, though, the pace is slow and relaxed and the nightlife is subdued. This is gradually changing as development proceeds and the number of visitors increases, but there are as yet not many bright lights and burger huts.
Most visitors hire a car to explore the island while on holiday and otherwise spend their time soaking up the sunshine on the beach, trying out the many seafront tavernas or taking long, leisurely walks. Golden Beach is a pretty, peaceful and charming resort well-suited to those who want to enjoy a quiet beach holiday and the odd jaunt to explore archaeological sites of interest.
Shopping opportunities in Golden Beach itself are limited to a few small supermarkets and kiosks; these stores are enough to keep self-caterers happy while on holiday but will fall short of the expectations of seasoned shoppers. Waterfront kiosks sell beach accessories like airbeds, along with ice cream, magazines and cigarettes. For serious souvenir shopping, though, visitors can take a trip to nearby Thassos town (Limenas), the island capital, just a short taxi drive away. Here there are little shops aplenty selling everything from lighters engraved with an island scene to magnificent marble sculptures. Island specialities to look out for include fragrant honey, locally made olive oil, and marble.
One would have to stay at Golden Beach for a very long holiday to try out all the tavernas in the vicinity. Quality and menus vary, of course, but most offer authentic Greek food, with the emphasis on seafood and ambience. Prices range from inexpensive to downright cheap making eating out in Golden Beach all the more pleasant.
Thassos is not a holiday destination for all-night party animals. Nightlife, particularly in Golden Beach, is limited to a few cocktail bars or spinning out dinner at a local taverna, perhaps spiced up with some Greek dancing or a guitar player. Nearby Thassos town has some piano bars and discotheques for those who want a taste of the local nightlife, but generally party-animals should choose one of the more fashionable and crowded resorts many of which have serious party potential.
Golden Beach and the other main tourist beaches on Thassos offer a variety of watersports equipment for hire, including sailing boats. Most visitors spend a day or two sightseeing on the island, which has several archaeological sites of interest. Motorbikes or cars can be hired for this purpose. Guided or unguided horse riding trails can be undertaken from the village of Rachoni. More energetic holidaymakers enjoy exploring the extremely scenic island on foot. Walking trails have been mapped and guidebooks are available at most kiosks in the towns and villages.
---
During late summer wasps can be a problem and a nuisance to visitors in Golden Beach. Some shops and tavernas do not accept credit cards.