Zakynthos

---

---
Laganas Travel Guide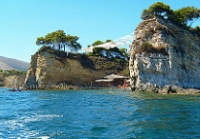 Laganas © zolakoma
Laganas is the hottest spot on Zakynthos (Zante). Visitors can enjoy golden sand and warm waters along one of the Mediterranean's longest beaches. The area is also a conservation area for loggerhead turtles. Visitors should not disturb their nests, which explains the ban on watersports.
Laganas is lined with hotels and apartment blocks, and the town is crammed with bars, nightclubs and restaurants. Visitors may not find a traditional Greek island atmosphere, though nearby villages won't disappoint in that regard.
Visitors will find everything from grocery stores to hundreds of souvenir shops. Good buys include jewellery, leather goods, designer clothing and local crafts. The fresh bread and sweet pastries from local bakeries are particularly good.
Laganas is awash with a huge range of restaurants, including snack bars and fast food outlets. Cuisine ranges from curry to pizza.
Visitors can stop at tavernas for Greek dishes.
Laganas is packed with party people on summer nights. Reputable DJ's are frequent visitors and play through to the small hours and beyond. Dance clubs, pubs, cocktail bars and karaoke bars are all part of the experience.
Though Laganas is dedicated mainly to fun, sun and partying, holidaymakers will find some very worthwhile scenic and cultural excursions. Boat cruises open a world that includes turtle viewing and visits to Zakynthos' extraordinary sea caves.
Also, Zakynthos town is home to fascinating museums, historic sites, churches and shopping opportunities. Watersports are offered at nearby Agios Nikolaos beach.
---
Laganas is one of the biggest and busiest resorts in Greece, where holidaymakers looking for a quiet, traditional Greek island will be disappointed. The beach is always jam-packed in the height of the season, and the resort is continually full of noise and commotion. Many visitors have complained about over-insistent touts outside clubs and restaurants, and some have reportedly been misled on the quality of their accommodation. There are no watersports offered at the resort because of the nesting loggerhead turtles on the beach.