Lovina Travel Guide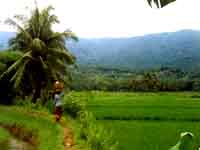 Lovina, Bali © Judith Duk
On Bali's north coast, the Lovina holiday resort stretches along several kilometres of black volcanic coastline, encompassing seven villages, with Kalibukbuk the established tourist centre. Although the second largest resort outside of the Kuta region, it is not as developed as the south of the island, but it has a rural charm, and guesthouses are prettily situated on the beach or among the rice fields. Ducks, pigs and chickens scratch in the fields and cattle wander along the roads. Colourful Balinese boats take Lovina tourists out to see the sociable dolphins, most active at sunrise, and the reef-protected waters provide a calm environment for snorkelling. Situated between the main diving sites on the north coast of Bali, Lovina is a good base for diving excursions. The black-sand beaches are calm and good for swimming. Bali's only Buddhist monastery, Brahma Vihara Arama, is a few kilometres away and can be combined with a visit to the delightful setting of the Air Panas hot springs at Banjar, another great holiday attraction.
The holiday resort of Lovina is actually a string of small villages strung along the coast, centred on the main town, Kalibukbuk. Here there is a western-style shopping centre and a variety of souvenir shops, where plenty of Balinese beachwear and tourist necessities are available. For serious shopping make excursions to the south, and to the villages where local craftsmen produce stone and woodcarvings, and jewellery designs. The most popular souvenirs from Lovina are the carved wooden dolphin statues, but don't believe the touts who try to convince you that they're ebony.
Don't expect to find any gourmet establishments while on holiday in Lovina, but Kalibukbuk has plenty of good value budget restaurants catering for the tourist trade, most of them serving up a combination of western and Indonesian cuisine. Rijsstafel buffets are popular and special deals abound, as do 'happy hours'. One of the most popular restaurants with visitors is the Jasmine Kitchen, with red and green curries finished by coconut ice cream, and Mr. Dolphin.
In Lovina, the nightlife is confined to entertainment provided at the hotels, especially shadow puppet shows. There are some cosy bars in town where you can enjoy a cocktail or a local Bintang beer and live music or karaoke while on holiday. Some even offer discos on Friday nights.
Lovina's main holiday attractions are the magical underwater world that exists just off of its black volcanic sand beaches, and the myriad dolphins that frolic offshore. Locals have taken advantage of these and offer scuba diving and snorkelling expeditions, as well as dolphin-viewing boat trips. Hotels usually make arrangements for these, as well as fishing or other watersport activities. The black-sand beaches are calm and suitable for taking children swimming. The adjacent interior is ideal for hiking, especially in the West Bali National Park. The Banjar Hot Springs are a relaxing excursion, as well as a number of spas in the area. You can also take an Indonesian cooking class at one of several schools.
---
There are lots of hawkers on the beach in Lovina and this can become a nuisance to travellers.