Jurmala Travel Guide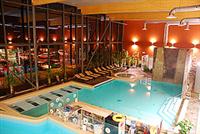 The largest resort town in the Baltic region, Jurmala is a stunningly attractive little coastal town that provides a relaxing haven for tourists to Latvia. Known as the 'Pearl of Latvia', for years the local population kept its secret to themselves: now, however, word of its charms is spreading, and tourists from all over Europe are heading to Jurmala to relax on its scenic coastline and receive treatments at its world-class spa centres. Boasting white-sand beaches that give way to groves of towering pine trees, and a town filled with wooden buildings sporting gingerbread trim, Jurmala is a picture-perfect place to unwind during your holiday in Latvia. The town is also great for watersport enthusiasts, and in summer, languid ferry trips down the Lielupe River can be booked.
Although blessedly free of touts and souvenir stalls, there is still some great shopping to be done in Jurmala. Be on the lookout for amber jewellery (set in silver) - a regional speciality.
Jurmala has a wealth of fine restaurants (more than a hundred in fact), serving everything from cheap local fare to exquisite international cuisine. Cafe 53 is great for light meals, Sonali is praised for its value, and Caviar Club is a fine-dining option boasting glorious sea views.
Jurmala doesn't exactly have a wild nightlife, but there are a few sophisticated bars, clubs and restaurants that stay open late and which are especially pleasant in summer, when most people hang outside and enjoy the balmy evening air. The Dzintari Concert Hall has a full programme in summer, showcasing musical performances in a variety of genres.
Most tourists to Jurmala are enticed by the prospect of relaxing on the beach and getting some world-class spa treatments in one of the many resorts. However, watersport and hiking enthusiasts will also have a great time in Jurmala: there are miles and miles of good walking trails through pine forests to explore; and rowing, sailing and waterskiing opportunities abound. There are also informal volleyball and football games happening on Jurmala's beaches at any given time in the summer.
---
While Jurmala is still relatively a 'undiscovered' resort on the international scene, it has been a very popular haunt for tourists from eastern Europe for many years. Some tourists complain that groups of rowdy Russian backpackers can spoil the serenity of the town. There is also an increasing amount of development taking place in Jurmala, which can be a bit of an eye-sore.