Bandos Travel Guide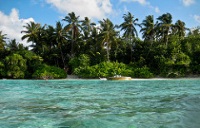 Bandos © Shayan Sanyal
The Maldives resort island of Bandos is located in the North Malé Atoll, a convenient 20-minute boat ride from the airport. Bandos is an idyllic setting for a tropical holiday, with white sand beaches and crystal-clear lagoons ringing lush green vegetation, and numerous palm trees swaying in the breeze. It is a very popular resort which consistently receives rave reviews from visitors. Bandos is primarily a family resort, or a romantic getaway for couples.
There is plenty to do in Bandos for active holidaymakers, including scuba diving, sailing, windsurfing and game fishing. The resort has facilities that include tennis and squash courts, swimming pools, saunas, gyms, and a salon and spa. There is also nightly entertainment, though not lively enough to satisfy younger vacationers looking for a party. Bandos is a great destination for romantic getaways and honeymoons and they host weddings frequently. It is a peaceful and beautiful resort.
Bandos has a boutique shop, a souvenir shop and a jewellery store at the resort; visitors should be able to find all they might need for their stay but the shopping is very limited. Those who want to experience the Maldivian markets should take a boat ride through to Malé where there are ample shopping opportunities and souvenirs will be far cheaper than at the resort.
Bandos has several good restaurants, from buffets to 24 hour eateries, there is a fair selection available to visitors of the island. There are also several bars which serve seafood, snacks and drinks, made all the more special because visitors can dine under the stars. For those with a more discerning palate, there are even some marvellous fine dining restaurants for those special occasions. The restaurants cater for all dietary needs, although guests are encouraged to inform the resort of their special needs before their arrival to ensure that they are well catered for.
Nighttime entertainment is limited at Bandos, which caters mainly to couples and those seeking a peaceful island retreat. There are nightly events like karoake, live music concerts, buffets on the beach, cultural shows, traditional dance lessons, discos and movie screenings, but there is no clubbing scene. Those looking for a party on holiday would have a better time elsewhere.
There is a gym at Bandos, free for all guests, which offers tennis, badmington, volleyball and the like. Popular watersports include snorkelling, windsurfing, sailing, water skiing, parasailing, banana boat riding, wakeboarding, and canoeing. There is also great scuba diving in the area and Bandos is well-known for having a wonderful dive centre. For the less active, the Orchid Spa offers a number of luxurious treatments, and there are plenty of activity rooms where time can be spent watching movies or playing board games. Fun excursions from the resort include night fishing, shopping trips to the capital, sunset dolphin cruises and much more.
---
Bandos is primarily a family resort and some guests complain that the children at the resort can be disruptive.