St Michaels Travel Guide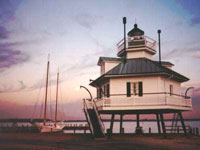 Lighthouse, St Michaels © Galen Frysinger
With one of the prettiest harbours on Chesapeake Bay, the holiday retreat of St Michaels is also one of the oldest ports and has held onto its maritime tradition. Log boats were the first workboats used, fishermen came to sell their catch, and canneries and oyster packing plants started up around the harbour.
St Michaels town grew into an important shipbuilding centre during colonial times and today its marina is constantly filled with boats bringing holiday visitors to admire its quaint streets and old buildings, art galleries, shops and cosy B&Bs, and to experience its revered seafood restaurants. The Chesapeake Bay Maritime Museum is filled with Bay history: exhibits on boat building, a Native American dugout canoe and Chesapeake sailboats specially designed to navigate the shallow waters of the bay, as well as the restored Hooper Strait Lighthouse.
St Michaels is also known as 'the town that fooled the British' from the time the townspeople cleverly avoided being bombed by the British during the War of 1812. They blackened out the town and hung lanterns high up in the trees so the cannon overshot the houses and the town was saved. Only one cannonball hit the town, striking the chimney of a house that can still be seen today.